OUR STORY
Elisha Marie is a jewelry design boutique inspired by a minimalist aesthetic and organic details. Our distinctive pieces find the balance between geometric structure and nature's effortless beauty. We honor a commitment to quality design and craftsmanship from start to finish, and we use recycled precious metals and ethical gems to create each concept. Every piece from Elisha Marie is thoughtfully handcrafted in Austin, Texas.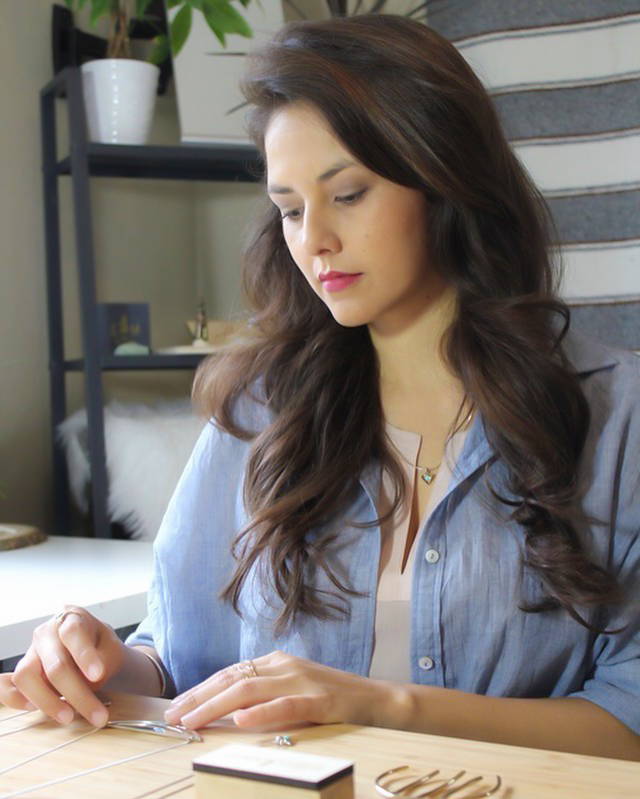 Elisha Marie, Founder & Lead Designer
Elisha M. Garza is the artist and maker behind Elisha Marie's designs. Formally trained in jewelry design and fabrication, she now owns and operates Elisha Marie—fulfilling her dream of creating a jewelry line that speaks to individuality.  
THE CREATIVE PROCESS
Every design begins with a concept drawing in Elisha's sketchbook. They are carefully refined and then brought to life by hand carving each design into a wax mold, or by designing in CAD. We then cast them into a metal piece that will become your handmade adornment. We partner with a small American casting studio that is committed to ethical and responsible production in all stages of the creation process. Each piece is then hand polished and packaged in our Austin, Texas studio—and finally, sent to your home to be worn as a complement to your unique, effortless style
OUR MATERIALS
Elisha Marie creates responsible and eco-friendly jewelry using recycled metals and conflict-free diamonds and gemstones. We purchase our metals from a handful of suppliers based in the USA who share the same values of sustainability and environmentally-responsible practices.
FEATURED MAKERS
In addition to producing our own independent designs, Elisha Marie proudly partners with other emerging artists and designers who cultivate our values: simplicity, originality, and mindful consumption.  
Through these partnerships, we hope to connect our customers with thoughtfully designers goods and the artisans who craft them.
We love products that are relaxed, natural, and comfortable with quality and longevity in mind.